This Story:
Warning: date() [function.date]: It is not safe to rely on the system's timezone settings. You are *required* to use the date.timezone setting or the date_default_timezone_set() function. In case you used any of those methods and you are still getting this warning, you most likely misspelled the timezone identifier. We selected 'UTC' for 'GMT/0.0/no DST' instead in /var/www/vhosts/slovobooks.com/httpdocs/irishsfnews/bblog/bBlog_plugins/modifier.date_format.php on line 26
July 6, 2006
John Hendrick tells me this:
The 3rd Place in Association with Warner Brothers proudly presents:
SUPERMAN RETURNS
Date: July 14th 2006
Venue: Cineworld, Parnell Street
Film Time: 21:00
How To Qualify For a Free Ticket:
1: Spend 20 Euro or more in The 3rd Place between now and 8 P.M. on July 13th and you will be entered into a draw to win one of 20 passes to Superman Returns.
2: Winning Entrants will be notified by 1 P.M. on the 14th of July, passes will be made available for collection at The 3rd Place on July 14th up to 7:30 P.M. Winning entrants will be notified by phone once only. If you don't answer the phone you don't get your pass.
3: For Further information contact The 3rd Place on 01-6336964 or info[at]irishcomicshop.com
4: One entry per purchase of €20. Customers can enter as often as they like.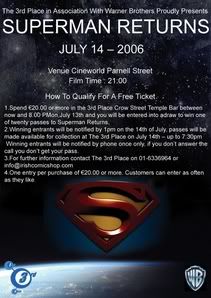 Story by PÓM
Permalink for this post is :
http://www.slovobooks.com/irishsfnews/news.php?postid=315